First of all, we'd like to state that there is nothing to be ashamed. There is no expiry date on these issues, and no one have right to judge you. If you haven't kiss a girl or boy yet, it is not a big deal, just try to be relax and keep reading our article, hope it will help you in this respect.
As a beginning, we can recommend you to try to be more social and friendly. Locking yourself in your house, spending all of your time with computer games can not really help. You should go out with your friends regularly and try to make new friends. In this point, asking your friends to introduce you to their friends can be really good idea. On the other hand, you can meet new people anywhere if you are friendly. In school, work, shopping mall in or in a bar, it doesn't matter. Just be kind to people around you, everybody like smiling and friendly person.
Secondly, you have to get rid of this pressure on you. You should get out of your mind that you have never kissed a girl or guy before. Just try to be relax and be confident. Those negative feelings may prevent you from kissing a girl or guy. Anxiety about kissing is the worst enemy for you and self confident is your best friend in this path. You may want the perfect moment. You may be worried about your breathe. You may be worried about your dry lips or position of your hands. Forget about all these. Kissing moment should be natural. You think that you don't know how to kiss but believe or not, you do. When the perfect moment comes, you will manage it, trust us.
Tips for Girls
You are a girl and you never kissed before: nevermind, this is not main problem, you just think that; who do you like to kiss ?. Just give positive signals to the boy who you like, and talk with him, Because he need your feelings and your friendship. The boy may in panic for that moment. Because its supposed that guys must make first movement. So, you just be aware and in confident at the moment he will try to kiss you. He will give signals that he want to kiss you, close eye contact, hand and body touching is kind of kiss signals, he will come closer to your face, talk closer, look his eyes closer. Just look for eyes at first, then close your eyes at that closer moment like your noses would touch each other.
Tips for Boys
You are a guy and never kissed a girl before. So you may need help. First of all you need a girlfriend, girls think same feelings like you, anxsious of first kiss and she is wondering that moment. Most important thing is closeness and relationship between you. Never think to kiss at first hour. You need to talk and show yourself that you are a good guy. You are the right person to kiss. Most important thing is hold her hand, skin contact is the key of kissing. hold her hand, touch her shoulder if you can, just rub his hand gently if you scary about shoulder. Be aware difference of girl hand and boys hand. Boys always are hard and tought, but girls are gentle and soft.  So be gentle while touching her hand. If you want to kiss, talk closely, stay closer. try to see the magic in her eye pupils. If you can go further, your lips will be touched. Then close your eyes and feel her.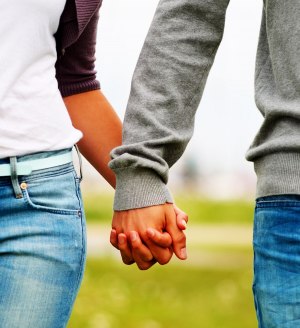 The only thing that matters is energy between you and your partner. So, forget about the perfect techniques or tips of first kiss. Of course, no one wants smelly breathe so you should be clean. In this point, having good hygiene is really important. So, you should be careful about taking shower or brushing your teeth regularly. In brief, you should pay more attention to your appearance. If you want pretty girl it is totally normal that she wants good looking boy. Pick yourself trendy clothes, and good perfume. Don't you forget that, good smell can drive a girl wild. On the other hand, unpleasant underarm odor can cause girls run away from you. You better take a look of our first dating tips article or First Kiss article. Because its most important thing in kiss is your smell and your look.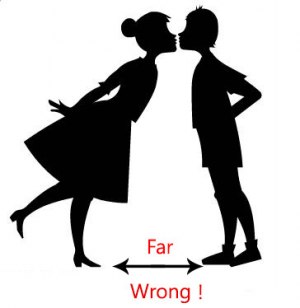 Finally, when you meet a girl, you should take it slow. It means, don't look like in hurry. You should be kind and gentle. Find different cute things to say her or make some surprises and take her to romantic private places. And, when you feel it is the correct time, forget about all of your doubts, don't worry, there are no wrongs in kissing, you can take action confidently. So its does not matter if you are at age 14, 15, 16 , 17, 18 or even 19,20,25. Just focus on friendship.
Date:
2016-01-30 01:10:37