Kissing under a mistletoe is a really popular tradition for millions of people. Mistletoe, generally reminds us to love. Most of Christian hang a sprig of mistletoe their doors in every holiday season. Generally, mistletoe is symbol of romance in Christmas time. So, if you are wondering where did the tradition of kissing under the mistletoe come from, keep reading!
History of Kiss Under Mistletoe
Mistletoe history has been known for centuries. This plants story dates back to Ancient Greek. Hippocrates used this awesome plant for treating some diseases such as menstural pains. On the other hand,Romans used mistletoe against to epilepsy, and poisons. Mistletoe is also known for its relationship with virility. There is alsoa story that comes from Norse mythology and according to this belief mistletoe is related also with love. But, why do we kiss each other under this mysterious planth?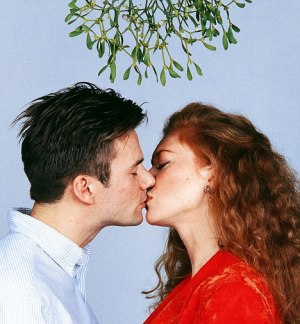 The tradition of kissing under the mistletoe goes back to 18th century.  In England, kissing under the mistletoe tradition became popular between British servants. So, we can clearly understand that this romantic Christmas practice started in middle class of Britain. And then, it spread to all around the World. According to customs, men can steal a kiss from any woman if they catch them under the mistletoe. On the other hand, refusing a kiss under the mistletoe was considered as a bad luck in these old days. Beside that, according to this belief, man and woman should break off a berry from the mistletoe after the kiss. After all the berries are gone, you don't need to kiss each other anymore. In this way, this romantic funny Christmas tradition became popular in Christian World and now,many young and old couples from all around the World kiss each other under the mistletoe live this magical moment with love.
Movies and Cartoons
You can see different movies and cartoon like "pokemon kiss under the mistletoe", some people look for full episode of this movie or lyrics about this love items. Also Justin Bieber made a song about mistletoe "Justin Bieber - Mistletoe Song 2011 . Under The mistletoe" you can download it or buy it from amazon.com (its around $12 in amazon)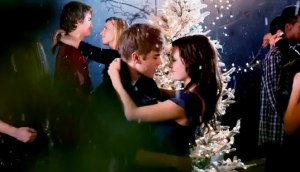 So How to kiss under mistletoe ?
Lovers always look for an excuse to kiss other. If you have a girlfriend/boyfriend before christmas this would be good chance for you to take a kiss for christmas present in this year. Just stay close to your friend and make good wishes for new year. Stay closer to him/her at the time of 24:00. Maybe you can take a kiss at that time. You know "You will live same chance in all the year what you do in first moments of new year".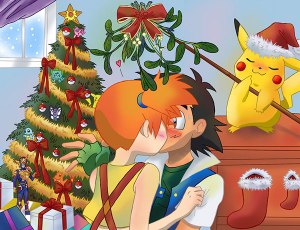 But never harass anybody for kiss if you have not any relationship or friendship. It will be bad luck if you kiss someone you don`t love. Also never make pressure over your girlfriend for quick kiss, you will have time in that night, early or late.  Stay closer to love and stay closer to mistletoe.
Date:
2015-09-03 03:02:08